Why Experience Matters Now More Than Ever
In the world in which us marketers live, either client or agency side, it's the non-stop pace of change that motivates, inspires and scares us all at the same time.
However, there is one thing that remains constant, success relies on us being able to engage with our audience and stimulate behaviour in people. In order to achieve this, we need to understand what our audience wants.
Today the price of engagement is far higher than ever before. If we are to be successful we need our audiences to FEEL something, and it's this fact that has driven and continues to drive the growth of brand experience.
What's so special about brand experience?
'Brand experience' gives us the ability to create physical memories, which live in the mind of our audience, forging a meaningful relationship with a brand.
So let's face a few facts. Today our audiences are cynical, they understand marketing, they know more, and in the world of where all 'essential needs' are catered for many times over, they actually 'need less', meaning they are pretty hard to stimulate.
You probably already know now that the much talked about 'Millennial Audience' value experiences more than things. This is driven by several factors, both global and cultural, but don't for a moment assume that the importance of brand experience is limited to one audience sector.
With all audiences wanting and needing more from the brands they engage with, the power to create a physical memory using multi sensory stimulation helps us succeed where other mediums fall short.
Brand experience delivered correctly can overcome today's cynical all-knowing audience. It enables brands to act with authenticity, to be transparent, to be personal and deliver multi sensory activation.
Making Memories that last
One of the most valuable elements to creating a brand experience in a three-dimensional space is that when you link a memory to more than one of the senses, at the same time you actually increase the strength of that memory.
This ties into how our brains work, creating experiences that combine visual, tactile audible and even aromas provide us with a unique opportunity to speak to both sides of the brain; our rational cerebral cortex and our emotional limbic system. It's this emotional engagement which, when used correctly, can inspire and generate love for your brand.
Integration brand experience
For the brand experience to work, it's important to apply a strategic approach to any activation. This is a whole topic in itself and there's more detail here but suffice to say you need to know what you want the experience to deliver, what action of emotion you wish to trigger and how this helps achieve your brand objectives. And of course you must know what to measure.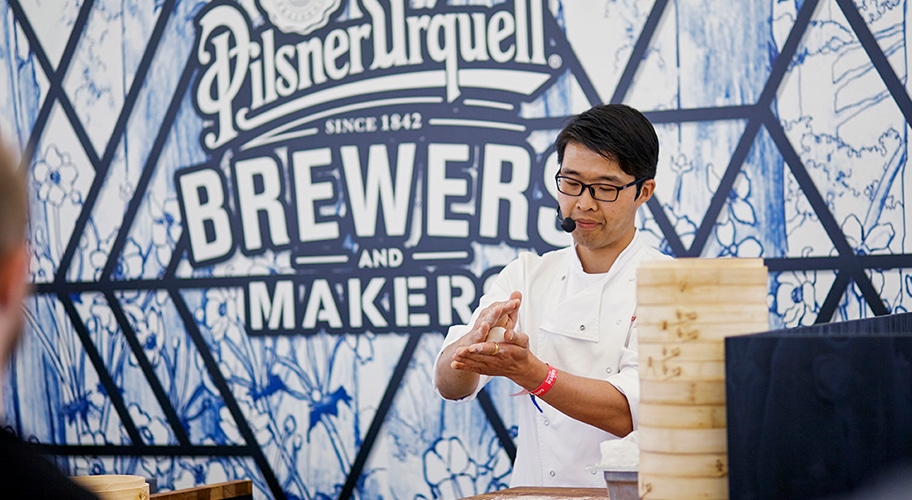 As technology has developed, we continue to find new and interesting ways to put the consumer at the centre of the experience and to make that experience more personal and targeted.
From beacon technology through to interactive apps and facial recognition, it's now possible to create deeply personalised and customised interactive brand experiences. We are even beginning to see activations where the consumer takes control and becomes the curator of their own experience. This can be a really effective way to stimulate the holy grail of brand experience, 'user-generated content', as it provides a new platform to help our consumer tell their own story about their experience of our brands.
By doing this, the brand moves from storyteller to guide and the response and potential reach of shared content increases exponentially. For more on that, you can have a look at our blog on the art of story telling.
Exponential value through Digital
If there was one aspect that has unlocked the exponential new value for the Brand experience platform, it's the ability to capture and publish content from events quickly, simply and relatively inexpensively. This has enabled experience marketing folk to get over one of the largest hurdles we faced and extend the reach of our experiences far beyond those who attend.
A side note here, not all content is created equal and it's important now more than ever to that content is GREAT! As in our world good content gets ignored. That doesn't mean it has to be super high production values and highly polished, far from it but to get real value here this needs to be done creatively engagingly and brilliantly, more on that here.
Time is everything
One final consideration is that by providing truly engaging experiences for our audience we encourage them to give us their time and this investment is far more significant that it may first appear. This investment helps build advocates in a way that is far more motivating than other platforms.
What does the future hold?
As new tech is developed the field of brand experience looks to be going from strength to strength. We are already using a host of innovative digital tools to create more immersive experiences building stronger relationships.
To see how we have brought brands to life and created some amazing experiences why not have a look at our recent work.
To talk to us about creating a brand experience that inspires your consumers and creates lasting memories, why not drop us a line.
People forget what you tell them, but they'll never forget how you made them feel.