Winning in the On Trade
There's no way to avoid the fact that the on trade landscape has, in recent times, changed dramatically – and certainly shows no signs of slowing down.
Changes in global markets, increasing uncertainty and a cultural shift in what consumers want has created some challenges and a degree of uncertainty. It means bars and brands have to thoroughly analyse what they are currently doing in order to stay one step ahead of the competition. But whilst these somewhat uncertain times present us with a few challenges, they also drop the gauntlet and offer us some incredible opportunities at the same time.
There's something we can do about it!

The simple truth is that as an industry there is scope at every level, and every outlet, on every night, to do better.  And by better we mean better for everyone; better for bars and bartenders; better for the brands that operate in the space; and ultimately better for the drinkers.
Better for Brands

More people enjoying the products we create and the experiences we deliver.
Better for Bars

More people coming through our doors spending more, and doing so more often.
Better for Bartenders 
Better relationships with your customers.
Better wages and tips.
The great thing is, by working together as brands, bar owners and bar staff we really can create value for everyone involved in the on trade, to the benefit of the people that we serve.
Believe it or not, the odds are heavily in our favour. The experience economy is ever-growing, with consumers readily admitting they look for unique and memorable experiences over tangible things. This puts us in an enviable position, where we can help drive the category forward.
The steps are in theory quite simple, but implementing them is another thing altogether. That's where we can help you.
As an agency, we specialise in the Beers, Wines and Spirits sector, with a particular focus on the on trade support and activation side. We've helped some of the world's largest brands roll out exemplary programmes, which ensure the on trade environment will continue to grow from strength to strength. This, in turn, provides value for customers' brands, and of course the drinkers.
Here's a short list of just some of the steps we can take to help ensure we ensure the future growth of this unique and exciting space.
After convenience and location, a good range of drinks is the most important factor in venue choice.
The range of drinks available is now one of the top four criteria in venue selection. Making sure that you are offering the right range of drinks is essential.
Be clear on what drinks are behind the bar, what they say about your bar and the role they play in the drinker's experience. Where possible, stock drinks that offer something that the drinker can't replicate at home.
When it comes to creating the perfect serve, deliver something to the consumer they wouldn't be able to emulate at home – and don't be afraid to try something new! Bring theatre, intrigue and excitement to the bar.
65% of drinkers at premium drinking occasions want staff to know more about the drinks.
If you're a bartender, look at ways that you can bolster your knowledge of the brand you sell – after all, knowledge really is power.
More knowledge is a clear way to engage with your consumer, enhance your relationship and therefore increase your chances of receiving tips. As brands and outlets, let's make sure we focus on giving our bartenders the tools they need to reward your staff for what they know and how they share it.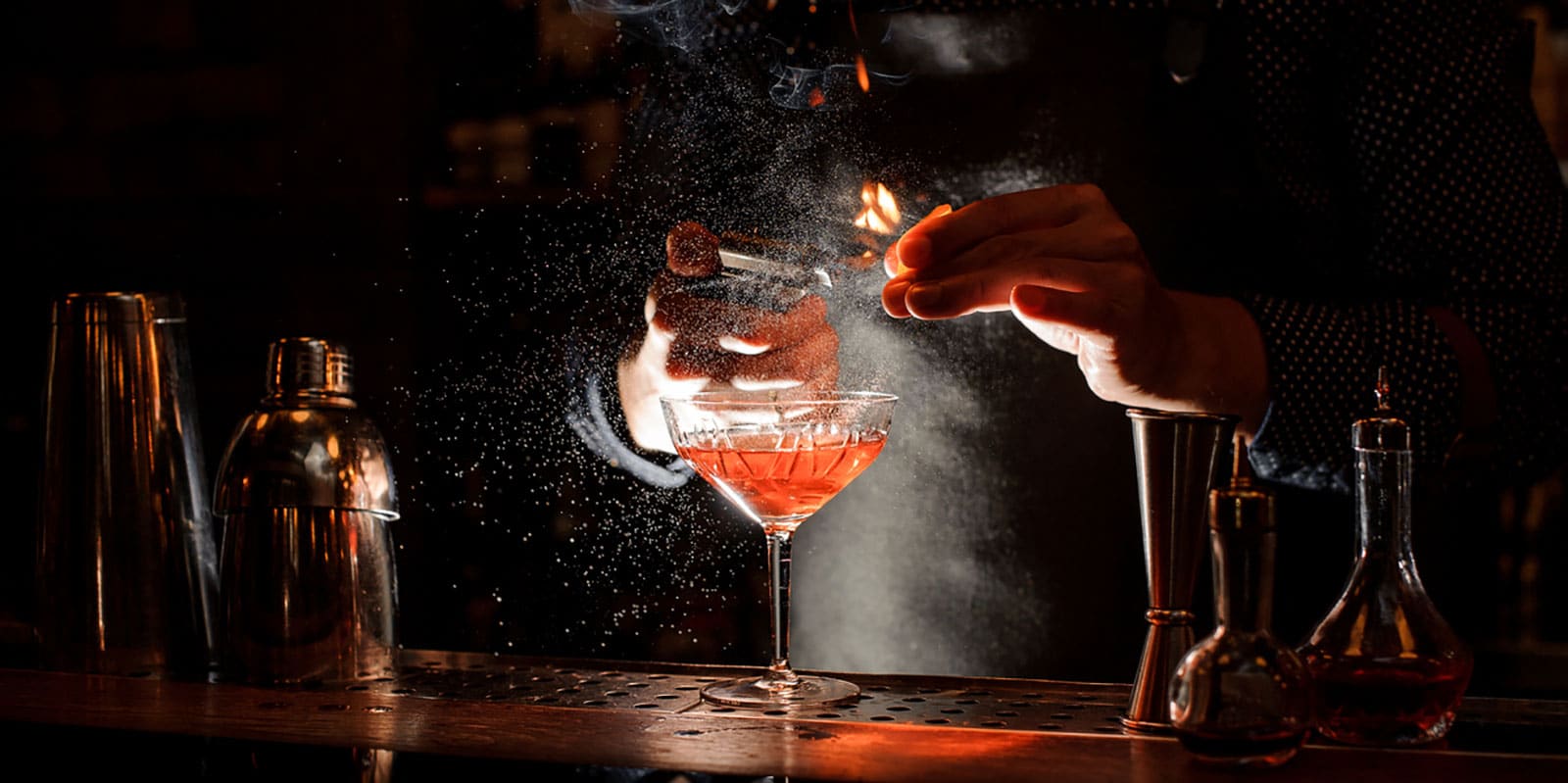 In the battle for footfall, it's not just the other bars that we have to contend with; it's people creating experiences in the comfort of their own home. It's our job to make sure that we create tangible value for them for making the effort to come out.
Now, this is a huge topic in its own right and if you would like some more advice on how to implement experience that creates an impactful and memorable activation, please drop us a line.
But for the purposes of this blog piece, we have segregated experience into two categories: Creating the Home Away From Home, and Something Special – Something New – Something Cool.
Creating The Home Away From Home

It was Starbucks that coined the phrase, but creating the idea of the third space was by no means original. As someone who spent a good deal of his time during college and university socialising in bars, it's imperative to create an environment where people just want to be.
Bartenders
You're there to make consumers' experiences enjoyable. Customer service is everything – welcome guests with a smile, remember their names and drinks – make them feel special.
Bar Owners
Have a house style of hospitality. Check that your staff are getting the basics right – from the greeting and waiting times to the quality of the serve. Incentivise and reward your bar staff for making your guests feel special, and offer them the chance to improve their skills through regular training – you can also work with your brand partners and use their training tools.
Run short questionnaires with customers to find out what's working and what's not, and offer guests unexpected rewards.
For Brands

Chances are, you will have best practise experience examples to inspire and share with your customers, so be generous with this. If you're developing POSM, think about what you can bring to the overall experience. If you're just putting signage up, you can expect to be ignored, understand what you're adding to the environment.
Something Special – Something New -Something Cool

We've got to remember that we are not selling drinks and food, we are selling an experience. Today's consumer is driven by a desire to socially share unique and memorable experiences – it is our job to ensure this is happening.
Bartenders
It's your show, so bring theatre to the bar, own the performance – show consumers something they have never seen before. Showcase your passion for your industry, and the thought and care you put into your drink creations. Remember as a bartender, you're always on stage.
For Bar Owners
Work with your brand partners to help create excitement for your guest. Know your guest and marry your brand partner's audience to them.
Meet and work with your partners to deliver activations that will surprise and delight your guests; this could range from drinks tastings and food pairing to limited edition availability of particular drinks and/or cocktails.
For Brands
Develop a platform that means something to the guests in outlet. Bring something new, something exciting something that  gives consumers real value. Ask yourself, what experience do we want to create and how do we make that memorable and unique to us? Be proud of what you're doing and why you are doing it, consumers are more interested in the experience of the brand than the product itself.
And critically, create a scalable activation that can be simply executed on different occasions.
Still Need Some Help? Download our Free Drinks Activation Toolkit.
This Free Drinks Activation Toolkit is designed to help you create beautiful and success activations in the on-trade and the off-trade. To download it, simply click here or click the image below.
Helping brands win in this exciting area is a big part of how we spend our days at Quantum HQ.  If you'd like to start driving change throughout the industry we'd love to be part of that.
Let's do something great together.
Tel: 01202 311345
Email: jody@qm-eu.com