DRIVING TRIAL FOR PILSNER URQUELL AT TASTE OF LONDON
Maintaining growth in a market dominated by 'Craft'
When research revealed that Pilsner Urquell's taste was polarising, with a majority rejecting the brand based on finding the taste 'challenging',  it was clear that the Original Pilsner from Plzeň had its work cut out if it was going to maintain relevance and continue to grow in a market dominated by niche craft beers.
Not only did the taste create a barrier with consumers, but it also led to customers (and indeed Miller Brands) to find the brand 'difficult' to support.
We needed a fresh approach and that meant going back the source of what made Pilsner Urquell so special.
Pilsner Urquell is the original pilsner style lager, but whilst that's an amazing fact, we needed more, we needed to make this actionable.
As the original pilsner style lager it was clear that nearly 90% of pilsners brewed and drunk in the world took inspiration from our beer. This meant that we owned the authority on the most important part of the drinking experience, the taste.
We partnered with a leading taste psychologist to tell us not only what the beer tastes like, but also how people experience it.
Armed with this new understanding, and with taste now as the core proposition, a communication strategy was developed to create a "managed encounter" between the brand and consumers; guiding them through their first taste experience.
Driving trial
Creating managed encoutners
Driving Trial and immersion At the taste of London
The Taste of London provided the ideal platform to reinforce our taste credentials and reach the right audience. For 6 consecutive years, we created a high impact, immersive brand experience at the UK's leading food festival.
All activations were centred on a celebration of taste and craftsmanship.
Experiences ranged from Brew master Václav Berka hosting a pour-your-own bar, guiding consumers through the three Czech pours, to immersive hands-on experiences delivered through the brewers and makers platform.
All activation was amplified via digital channels, media partnerships and on social.
The festival was also an excellent customer marketing opportunity.
Consideration to purchase +
Are you getting the most from your events?
DRIVING AWARENESS AND DISCOVERY
Leveraging media partnerships
We wanted consumers to discover the brand on their own terms by providing stimulus to inform and interest them, so getting the brand in front of the target audience was absolutely essential.
Tone is important for the target audience too; so instead of talking to them about Pilsner Urquell, a communication framework was developed to show them what the brand is, does and truly stands for.
The Evening Standard media partnership
Securing the right media partner was always going to be key to the activity, therefore we secured a six-month Evening Standard partnership (targeted London title with 341k weekly reach) combined both digital and press content-led advertorials; firstly establishing the concept of taste and then amplifying the taste-centred brand activations.
This generated third party content that was informative, interesting and credible.
DRIVING IMMERSION
Activation in the on and off-trade
Creating a one-off event gave us a great way to articulate the brand, but to maintain relevance with our audience we needed to connect with them all year round.
We developed a series of on-trade activations that delivered a unique opportunity to taste the original Pilsner un-filtered and un-pasteurised, freshly tapped from an authentic, hand-crafted wooden oak barrel.
This activity was extended into the off-trade environment with flagship events showcasing the brand in a retail environment.
In addition, a series of brewers and makers events were staged in outlet to deliver the immersive hands-on experience of the brand, celebrating our authority on taste and our passion for craftsmanship.
These events provided an opportunity to engage with industry influencers, customers and of course, our consumers.
Need help activating in the on-trade?
ON-TRADE EXPERIENCE
Tankovna pubs
Borrowing from the success of 'tank beer' in Czech and Slovakia, we launched it into three pubs across London.
The White Horse in Parsons Green, Draft House on Seething Lane and Strongroom Bar & Kitchen in Shoreditch are now showcase outlets for Pilsner Urquell.
Continued marketing support ensures the delivery of premium drinking occasions in the on-trade.
INFLUENCER STRATEGY
Advocacy through the Pilsner Brew Off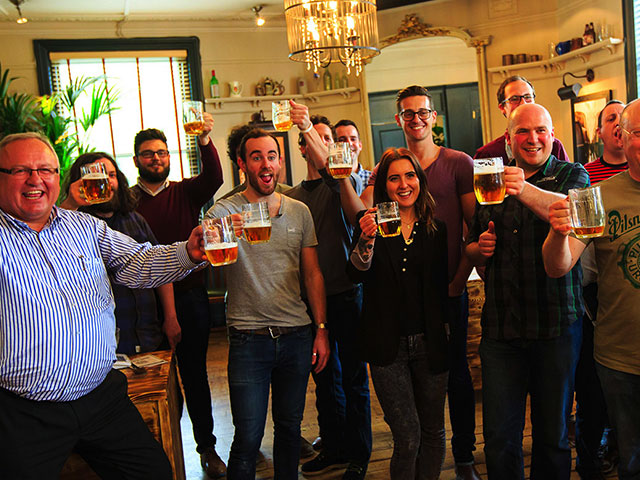 We created The Pilsner Brew-off, a fully immersive campaign targeted at a select group of industry specialists from cellar masters to beer bloggers and influential journalists.
Across 2 days we invited our key opinion leaders to a completely bespoke, never before seen experience at The White Horse, Parsons Green.
Guests met Plzen-born brew master Václav Berka, who revealed some of the secrets behind the brewing of Pilsner Urquell, before being given the chance to craft their own Pilsner.
Our leading taste expert Greg Tucker also hosted a food and beer pairing lunch which showcased the versatility of Pilsner Urquell's unique taste profile.
Each team's crafted brew was taken away to be largered ahead of a judging event open to consumers. The winning brew was commercially brewed and sold at the European Beer Festival at The White Horse.
360,000 consumers were reached with this activity.
Need an influencer strategy to help reach your audience?